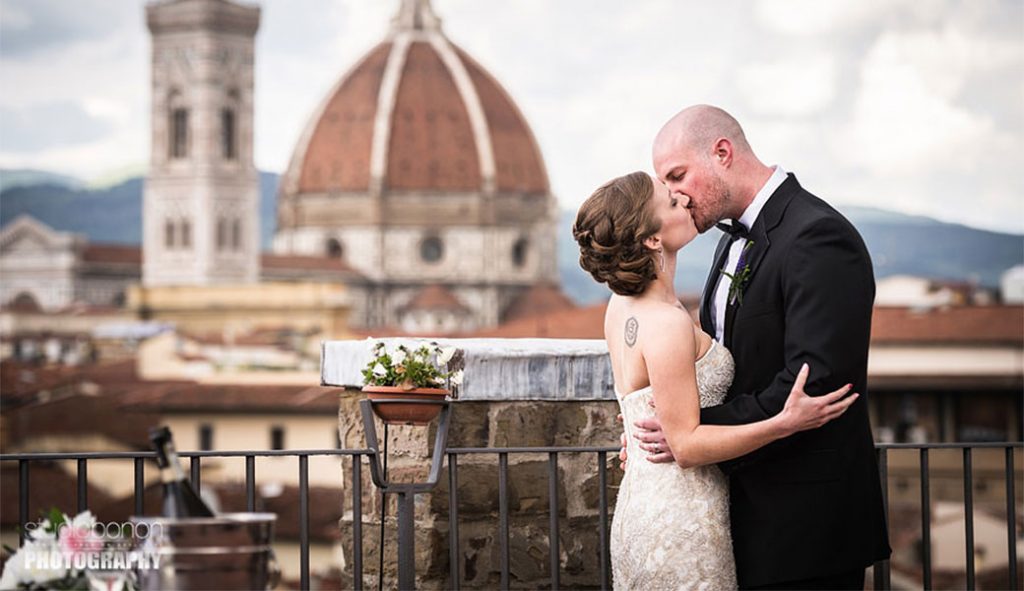 Get married at Antica Torre Tornabuoni, live a dream
The wedding is, no doubt, one of the most important days of someone's lives. And saying yes with the Duomo and the Ponte Vecchio as your testimonies is a unique opportunity that only the Antica Torre Tornabuoni can offer.
It is the perfect setting for exchanging your vows and celebrating this unique moment with your beloved ones, choosing between the two unbelievable terraces to have your ceremony and reception: the terrace overlooking the Arno River has an area of 125 square meters; and the Terrace overlooking the Duomo is equipped with an elegant "Jardin d'hiver" that seats about 30 people.
Italian vows
As if this spectacular scenery wasn't perfection, you can have more: exchanging your wedding vows in Italian, the official language of love.
The Italian language school Italianme offers two hours of language coaching to help you create and recite your special wedding vows and proclaim the eternal love in the most romantic language of the world.
Taste of Florence
Our restaurant The Tower has various menu options with delicious dishes that will bring the taste of Florent to your wedding. The proposals range from traditional to special menus such as vegetarian, vegan, gluten-free or fusion. The menu usually includes a minimum of five courses with drinks included, served with refinement and elegance by our staff.
If you have an external catering and chef of your preference, we can accommodate the kitchen team and offer all the support they may need. The most important for us is for the bride and groom to be happy and satisfied.
We follow this rule for everything that regards your wedding: you can choose your own suppliers – photographers, celebrants, florists, hair stylists, makeup artists, etc. – or, if you need, we can give you any suggestion you may request. Cristina, our event's angel, is always ready to give all the support bride and groom may need.
VIPs only
Our intimate atmosphere is ideal for hosting an exclusive reception for your most dear friends. During the cold and rainy days, the property is ready to receive up to 48 seated guests and 60 people at the buffet reception in the Sound Immersion Salotto, in our 7th floor.
And, of course, our terraces are a great choice during the spring and summer seasons, where your guests will have an unforgettable experience and bless you with the most wonderful view you could ever dream of.