A special occasion to welcome autumn with good food and an amazing view of Florence. That's how we can describe the Spaghetti Night in Tower, a very exclusive event that will be held only three Friday evenings: September 30, October 7, and October 14. There will be very few tables available, so hurry up and book now!
Here is the Spaghetti's Night menu: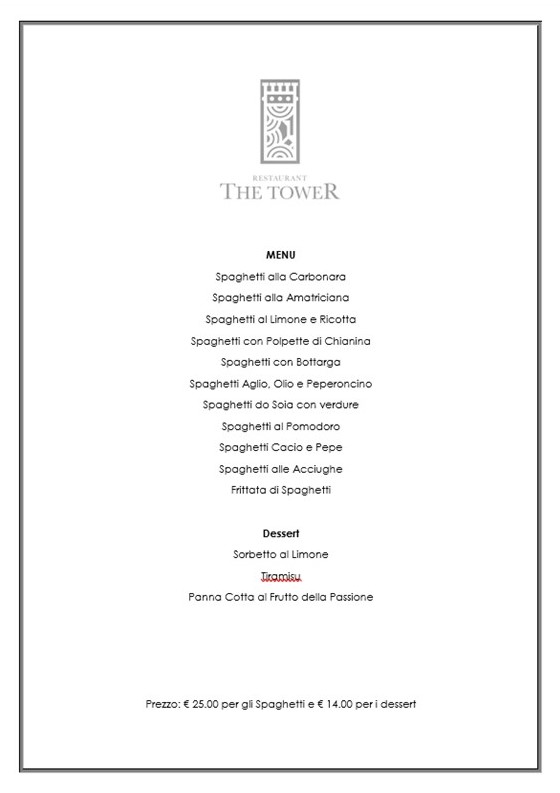 To help you get prepared to choose one of the 11 types of Spaghetti that will be cooked by our talented chef Carlos Curasma, we have made a list of curiosities about the most known – and loved! – pasta in the world: the Spaghetti!
The Italians are the largest consumers of spaghetti in the world: 26 kg of spaghetti are consumed per capita by Italians. Behind them, somewhat surprisingly, Venezuela (12), Tunisia (11.7), Greece (10.4) and Switzerland (9.7).
The first record of the existence of spaghetti dates from 1154. In fact, the "Book of Roger" dates back to that period, drawn up by the geographer of Roger II of Sicily, a certain Al-Idrisi. In his pages, it is said that in Trabia, a town about thirty kilometers from Palermo, a thin and elongated pasta was made, which was exported throughout the Mediterranean.
It was not before the 17th century that the world knew the recipe for spaghetti with tomato sauce. Before then, in fact, spaghetti were seasoned only with oil, cheese and pepper. The first evidence of a "red" spaghetti is found in a Neapolitan nativity scene in the Royal Palace of Caserta, from the early 1700s.
1957 On April 1, 1957, the BBC aired an "April Fool" fake documentary about the spring harvest of spaghetti in Switzerland. Since pasta was almost unknown in the UK until then, thousands of viewers called the broadcaster to get news about the "spaghetti plant", not realizing that it was an April Fool.
25 centimeters is the length of the real spaghetti, although obviously, over time and depending on the manufacturer, other measures have also been adopted. However, the thickness is much more variable, so much so that there are no precise indications in this regard. Today we tend to speak simply of cappellini, noodles, spaghetti, and thick spaghetti, indicating four types ranging from the thinnest to the thickest. The most characteristic variant is the spaghetti "alla chitarra", characterized by a square section rather than a circular one.
What do you need to prepare 3 portions of the most famous "spaghetti with tomato sauce?
300 grams of spaghetti
700 grams of ripe cherry tomatoes
3 heads of garlic
6 tablespoons of extra virgin olive oil
basil and salt to taste
How to prepare:
Cut the cherry tomatoes in half, removing the seeds and water, and add them to a saucepan where you will be frying the crushed garlic heads together with the oil. After five minutes, add a few basil leaves, then cook for another twenty minutes, stirring occasionally. Then cook the spaghetti. How? A liter of water and 7 grams of salt per 100 grams of spaghetti. Times vary according to spaghetti and water, but the important thing is that they are al dente, that is, well cooked outside and slightly raw in the center. At this point add the tomatoes (if you prefer pass them in a vegetable mill or a blender) and serve.
Don't miss the Spaghetti Night in Tower. Book now: info@tornabuoni1.com