REVIEWS



1141 reviews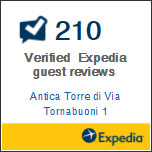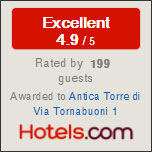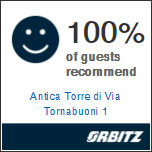 Wonderful Hotel in a Fabulous Location
We stayed here for 2 nights and truly wish we had booked in for longer. The staff was SO friendly and wonderful and the location was amazing!! We used their rooftop terrace to read each afternoon after a busy day exploring the city and couldn't get over the gorgeous views. Breakfast was a beautiful big buffet and the morning staff was so lovely and quick to make sure I had my morning cappuccino!

 Reviewed October 3, 2017
Incredible Room with an Incredible View
We had the Panorama Suite. Our room lacked nothing. It was clean, comfortable, warm, welcoming, spacious, well appointed, and simply beautiful. The hotel has excellent wi-fi and adequate outlets for charging all the tech we carry. It is a tower. There are lots of steps even though there are elevators as well. The views of the Ponte Vecchio, the Arno and beyond are incredible….

Reviewed June 29, 2017



Great accomodation and service
Fabulous property ith really nice helpful staff. Really conveniently located and easy to walk to the major sight. Large well appointed rooms – our apartment also had a useful kitchen and we were able to arrange for groceries to be waiting for our arrival. The roof terrace bar and restaurant are exceptional with views to the Duomo, up and down the river and over to Pizzi Palace.
Great place to stay in Florence.

 Reviewed August 5, 2017
One of the best hotels in Italy
The hotel is incredibly charming and has an excellent location. The rooftop bar with views of both the duomo and the Arno is astounding. ùThe bartender there also makes incredible drinks.

Reviewed July 25, 2017