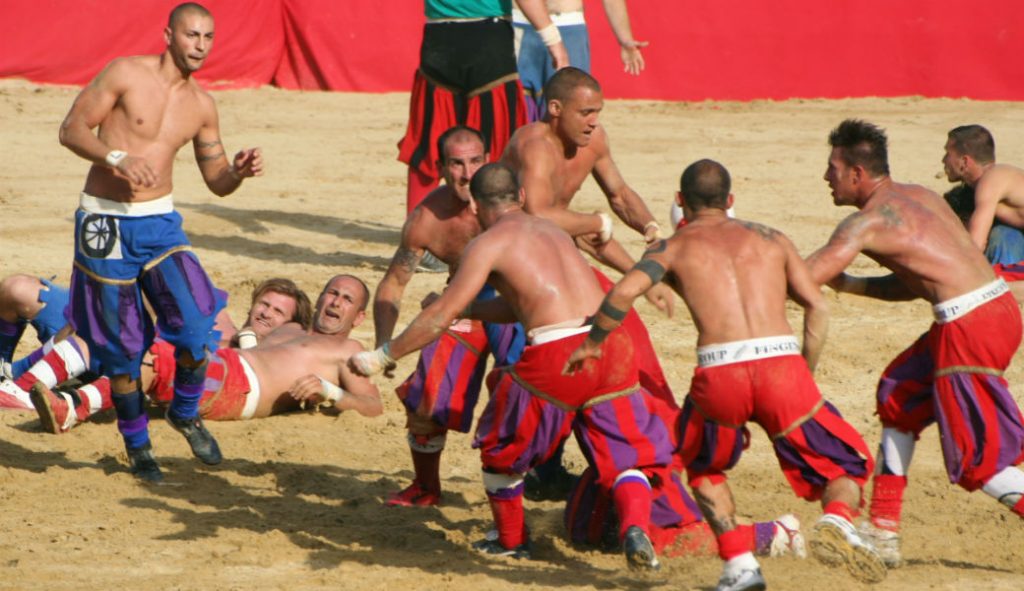 The Florentine's strength and tradition at the finals of Calcio Storico
A mix of soccer, rugby and wrestling, with 27 players each side, fighting for victory. This is what the final game of Calcio Storico Fiorentino is all about. On June 24th, when Florence celebrates its patron St, John, Piazza Santa Croce will be the field of this battle, whose tradition, strength, and pride were not erased by modern times.
In fact, being in the audience of this great event is taking a trip back in time, more precisely to the 16th century, when it all began. Back then, the football was practiced in Florence by everyone: rich, poor, young, and old. But the most famous game, passed to the headlines for the critical historical moment in which it occurred, was played on February 17th, 1530 during the siege of Florence and it was called The Calcio in Livrea.
It continued to take place without interruption until the 18th century, when the matches, at least those "organized", fell into disuse. The last official competition took place in Piazza Santa Croce in January 1739 and only reappeared in 1930.
A fascinating spectacle
The event starts before the game, around 4 pm, when a multicolored parade, composed of more than 500 figures, leaves Piazza Santa Maria Novella and leads its way through the city center to arrive in Piazza Santa Croce. The epoch costumes are incredibly reliable: 16th century uniforms of Florentine nobles (chosen among the descendants of the historical families of the city) and of the infantrymen, with weapons and flags. Every detail is well thought to bring us back to Renaissance. And it works!
When the game begins, the 54 "calcianti" (27 on each side) united in team spirit fight together for victory. And what a fight! To achieve the objective of scoring the most goals "caccia" in 50 minutes of match, players run, throw the ball, and literally fight with their opponents in a game of bodies reminiscent of Roman gladiatorial fights. A show of strength and agility. A bit violent, it's true, but still wonderful.
Understand the game
There are only four teams in calcio storico: Santa Croce (blue), Santo Spirito (whites), Santa Maria Novella (reds) and San Giovanni (green). The two winners of the semi-finals play against each other on June 24th, at 5 pm. Here's how it works:
For each "caccia" (goal) scored, the shot of the culverins sanctions the point for one or the other team. Only then the field is reversed.
In the end, after 50 minutes, the winning line-up receives a white calf, which has been festively withdrawn from the players.
After the award of the prize, the parade re-establishes the initial formation and parades imposing.
Comments