Mona Lisa, La Gioconda from Leonardo da Vinci's masterpiece, was a real person. And we're not talking about a self-portrait of the artist, as you may think. Mona Lisa was a real Florentine woman, born and raised in Florence under the name of Lisa Gherardini. To learn all the details of this amazing story, we spoke to the author of the book Mona Lisa, A Life Discovered, Dianne Hales, who gave us this exclusive interview – and also prepared a walking tour so you can follow Mona Lisa's steps in Florence.
1- How did you become interested in Italy and, more specifically, Mona Lisa?
Years ago I came to Switzerland to give a talk and, on an impulse, decided to take a train to Italy. The only Italian I knew was, "Mi dispiace. Non parlo l'italiano." I was enchanted by everything I saw, but I really wanted to communicate with the Italians who were chattering all around me. Back in the United States, I began studying Italian. My husband and I began coming to Italy every year on vacation, and as we made Italian friends, I kept working harder to become fluent.
My linguistic infatuation eventually inspired a book: La Bella Lingua, My Love Affair with Italian, the World's Most Enchanting Language. Through Italian friends and friends of friends, I became intrigued by the real woman immortalized by Leonardo in his Mona Lisa. Over the course of several years I walked the streets in Florence where she lived, knelt in the chapel where she prayed, ventured into the long-abandoned convent where she died—and wrote Mona Lisa: A Life Discovered.
2- Almost nobody knows that Mona Lisa really existed and even less that she lived in Florence. For most people, Mona Lisa is a self-portrait of Leonardo Da Vinci. What led you to go in another direction?
When I was in Florence researching La Bella Lingua, I read newspaper reports about the discovery of archival documents from the family of Lisa Gherardini, the real woman in La Gioconda (the Mona Lisa).  Through a family friend, I met the researcher, Giuseppe Pallanti, who shared his findings and gave me a map of the city and marked with X's the places where Lisa had lived.   During extended stays in Florence, I traced Mona Lisa's life by visiting the palazzi she lived in as a child, teenager, and merchant's wife, the churches where she worshipped, the convents where her daughters—and Lisa herself, in her final years— lived.
The consensus among art historians is that Lisa Gherardini was indeed Leonardo's muse and model. Art historian Giorgio Vasari identified her as Leonardo's subject in his "Lives of the Artists," published when Lisa's sons and some of Leonardo's contemporaries were still alive and could have challenged any misidentification. Speculation about other possible models has run rampant over the centuries, but in 2006 an archivist discovered a margin note in a book that commented on Leonardo's working on her portrait and was dated as "October 1502."  Everything about this identification has held up to intense scrutiny.
3- What were your main findings regarding Mona Lisa? What surprised you the most?
With a crinkled map in hand, I traced Mona Lisa's life literally step by step, beginning in the dark, dank alley where she was born in 1479. I followed the route she would have taken as a bride in 1495 to her husband's family home. I returned often to the street where she gave birth to six children and to the church where she worshipped. I sadly beheld the dilapidated former convent where Mona Lisa died and was buried at age 63 in 1542.
But the most surprising revelations concerned the lives of Renaissance women—from childhood to adolescence (when most entered arranged marriages) to their daily lives as wives and mothers.  Florentine women were not "liberated" in our sense of the word, but they were strong. They not only held up half the sky but served as the glue that held all aspects of Florentine society together. The woman whom Leonardo immortalized was no victim but a fully dimensional, confident, intelligent, intriguing, flesh-and-blood woman.
It was also a complete delight to meet the Princesses Natalia and Irina Guicciardini Strozzi, the fifteenth generation of Mona Lisa's grandchildren (on their father's side), who also are descended from some of Florence's most prominent noble families. I saw some resemblance, both around the eyes and in the curve of their jawline. However, what impressed me most were their spirit and personalities.
Natalia, a ballerina-turned-actress, is more extroverted and bubbly; her younger sister Irina, more reserved. But both exude such graciousness, warmth, and charm that I had to wonder –  although we can never know – Mona Lisa might have shared their ebullience. Both of the Strozzi princesses have huge, megawatt smiles—the opposite of Mona Lisa's subtle grin. But their regal father, Principe Girolamo Guicciardini Strozzi, does indeed smile like La Gioconda. I know: I saw it when I presented him with a copy of my book on his renowned ancestress.
4- And what news can we expect regarding your work? Is there a new book on the way?
I've just completed the manuscript for LA PASSIONE: How Italy Seduced the World, which will be published in April, 2019, by Crown, a division of Penguin Random House. I see it as a   jubilant combination of history, travel reporting, memoir, and love letter to Italy – a culture, rather than a mere country, that has transformed art and architecture, language and music, food and fashion.
Now that you know a little bit more about who was the Mona Lisa, Diane Halles invites you to travel back in time to the city where Lisa Gherardini grew up, married, had children, inspired a genius and survived some of the most tumultuous decades in Florence's history. Enjoy experiencing Florence in an entirely new way: through Mona Lisa's eyes.
MONA LISA Walking Tour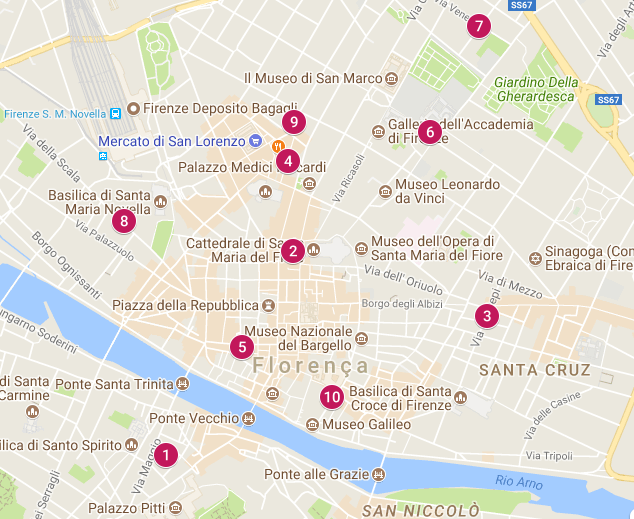 Via Sguazza
Although the Gherardini once ranked among the most powerful of Tuscan clans, by the fifteenth century, Lisa's family had lost its wealth and prestige.  The best house her father Antonmaria Gherardini could afford to rent was a converted wool shop on a narrow lane in the Oltrarno.  A plaque and sculptural relief of Lisa Gherardini marks her birth place close to the lane's intersection with Via Maggio.
Battistero di San Giovanni (Baptistery of St. John)
Antonmaria Gherardini, whose first two wives died in childbirth, welcomed his first daughter into the world on June 15, 1479. Carried through Ghiberti's gleaming doors, Lisa was baptized under the celestial gold-painted ceiling, covered with glass mosaics to form a huge image of Christ the King and Judge.
Via de' Pepi
In 1494, Lisa's maternal grandparents arranged for her family to move into the palazzo of a rich widower who lived around the corner from their Via Ghibellina home on Via de' Buonfanti (now Via de' Pepi). Here, in March, 1495, in a strictly civil ceremony, 15-year-old Lisa exchanged wedding vows with 29-year-old Francesco del Giocondo.  a wealthy merchant and widower.
Via della Stufa
The newlyweds   took up residence in the del Giocondo family home on Via della Stufa, off the Piazza San Lorenzo.   Eventually Francesco bought a house (believed to be #23) adjacent to his childhood home for his growing family. Lisa gave birth to six children – three boys and three girls – but two did not survive childhood.
Palazzo Davanzati
To get a sense for the interior of a merchant's home, I recommend Palazzo Davanzati, now the Museo della Casa Fiorentina Antica (Museum of the Antique Florentine House), which provides a vivid sense of Firenze com'era

(Florence as it was).
Santissima Annunziata
Leonardo took up residence in this compound in 1500 after fleeing a French invasion of Milan. Leonardo's father, who handled the church's commercial enterprises, may have introduced his acclaimed son to Francesco del Giocondo, who provided linens and occasional loans to the friars. Francesco later acquired a family crypt in the "martyrs' chapel," just right of center behind the main altar.  During one visit, I knelt in the confessional where Mona Lisa may have prayed.
San Domenico di Cafaggio (now the Centro Militare di Medicina Legale)
As many as half of the daughters of Florentine families who could not afford dowries ended up in nunneries–including two of Lisa's younger sisters, who took vows  in  this convent.   Francesco and Lisa del Giocondo placed their ldest daughter in this cloister at age 12. She died, perhaps of plague or another infectious illness, at age 19.
Officina Profuma-farmaceutica di Santa Maria Novella
A ledger documents that Mona Lisa once purchased a vial of distilled "snail water" (acqua di chiocciole), used as both a cosmetic and a treatment for bronchial and digestive woes, from a convent apothecary much like this one. Established in the thirteenth century, this beautiful shop prepares a range of products according to formulas developed in Mona Lisa's time. The enticing scents are reason enough to visit!
Sant'Orsola
Just a short block from the del Giocondo home on Via della Stufa, Sant'Orsola was once an exclusive nunnery for daughters of Florence's elite. Mona Lisa's youngest daughter entered this convent as a teenager and took her final vows at age 22. After her husband's death in 1538, Mona Lisa moved to Sant'Orsola, which provided room and board for widows, and chose to be buried there upon her death in 1542.
Today the bleak walls of the hulking urban ruin are blotched with graffiti, peeling posters and bricked-up windows.  However, developers are promising to restore its façade and resurrect the complex, perhaps as a music school, along with a restaurant, parking garage, bookstore – and a museum dedicated to Lisa Gherardini.
Uffizi Gallery
Here you can find Leonardo's Annunciatio

n and the

Adoration of the Magi

, along with Verrocchio's

Baptism of Christ

, which includes an angel by Leonardo.